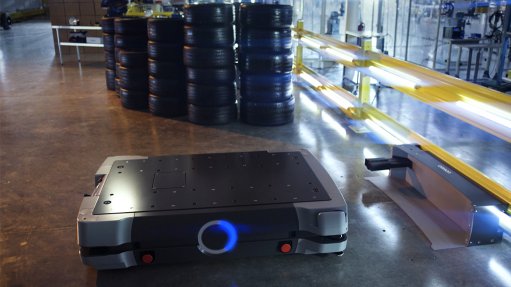 AMR UPTAKE Local interest in autonomous mobile robots is specifically focused on increasing productivity, employee safety and wellbeing, as well as on curtailing errors
While autonomous mobile robots (AMRs) are becoming an integral part of future-oriented factories, job creation remains an important factor for a company considering AMR implementation at a facility to ensure it remains globally competitive and sustainable, says industrial automation expert Omron regional marketing manager Cezanne Gonsior.
"There is a unique opportunity to upskill workers to provide technical support where AMR is introduced, allowing for processes to be streamlined through the AMR and the worker and, in turn, increase productivity and decrease the opportunity for errors."
Local interest in AMRs is specifically focused on increasing productivity, employee safety and wellbeing, as well as on curtailing errors, she explains.
AMRs have become progressively more versatile and can support various materials-handling tasks.
Mobile robots in warehousing and manufacturing environments help to reduce the workload of employees by taking over routine tasks and the risk of employee injury in dangerous situations, in addition to complying with hygiene regulations – an issue that has become significantly more important because of the Covid-19 pandemic, explains Omron.
AMRs also play a major role in innovating supply chains by improving the traceability, speed and accuracy of routine operations.
Therefore, the face of manufacturing continues to change and companies, such as Omron, are looking towards the future of manufacturing by developing solutions that involve greater collaboration between man and machine.
With the option to be equipped with a collaborative robot arm, in many applications, mobile robots are well-suited to work side by side with their human colleagues. For example, moving loads from conveyor to conveyor can increase flexibility and efficiency in the production environment.
Further, robots, such as the Omron HD-1500, can transport loads of up to 1 500 kg, expanding application options to pallet-sized loads and large and heavy automotive components.
To meet the needs of flexible production, manufacturing sites must be agile enough to change or update a production line at short notice to adjust rapidly to changing consumer needs and diverse production demands such as lifting and transporting heavy loads.
Since mobile robots are not fixed, they support this call for flexibility, states Omron.