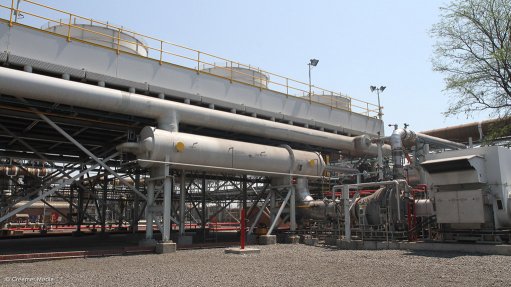 Photo by: Duane Daws
RUSTENBURG (miningweekly.com) – Platinum producer Anglo American Platinum (Amplats) on Monday unveiled a new R150-million "revolutionary" 5 MW cogeneration plant at its Waterval Smelting Complex, in Rustenburg.
The Eternity Power Thermal Harvesting plant, which had a nominal 4.3 MW of generation capacity, was expected to revolutionise the metallurgical sector as its economical use of the waste heat of metallurgical and chemical processes could be replicated across other large industrial complexes emitting large amounts of waste thermal energy.
Hot commissioned in June by project developer Vuselela Energy and equity provider H1 Holdings, the cogeneration power plant, capturing waste heat from Amplats' conversion plant convertor, was already performing above expectations, with consistent power generation of around 3.2 MW.
"This innovation . . . provides a solution to the energy challenges that an energy-intensive operation like smelting faces. We now have clean, sustainable and reliable energy and are proud to open Eternity Power as South Africa's first thermal harvesting power plant in our operations," Amplats executive head of process July Ndlovu said at the launch.
The project was described by its developers as a world-first, with the power plant's connection to a convertor at a metallurgical smelter representing an innovation in the field of energy efficiency, the company explained.
All of the patents for the suite of technologies developed by Vuselela Energy, in conjunction with Environmental Process Solutions (EPS), had been awarded and registered in South Africa and were likely patentable worldwide, said Eternity Power Thermal Harvesting director Jacques Malan.
EPS designed, engineered and managed the project, basing its technology on that of Israeli company Ormat's Organic Rankine Cycle system, which was used to generate geothermal power from heat sources worldwide.
"The set of technologies used at the Eternity Power clean energy plant had not previously been used in a smelter environment and a significant amount of novel work was done to design the integration of the technology into the smelter complex and to establish the technical feasibility of the process," he added.
The power plant enabled Amplats to reduce its reliance on the national electricity grid, as well as reduce the smelter's carbon footprint, while ensuring security of supply in terms of guaranteed output capacity, conversion efficiency and availability.
A competitive effective electricity price relative to that offered by State-owned power utility Eskom was also ensured, along with fixed price increases over the next 15 years, while no additional capital expenditure or maintenance expenditure would be required from the smelter.
The project formed part of government's critical infrastructure programme (CIP), with a R30-million grant from the Department of Trade and Industry (DTI) a key enabler in the decision to move forward with the construction of the power plant, Trade and Industry Minister Dr Rob Davies told Mining Weekly Online.
The CIP aimed to stimulate investment in South Africa, increase exports of value-added commodities and create employment opportunities by providing infrastructure critical to industrial development.
The DTI's grant was also in line with the country's ambitions of promoting beneficiation, for which the energy-intensive smelters were critical, he said.
"Energy efficiency is now the name of the game," Davies added, stating that the DTI did not intend injecting large amounts of funds into a project but rather to provide enough to plant a "seed" as a catalyst to encouraging more energy-efficiency project investments.