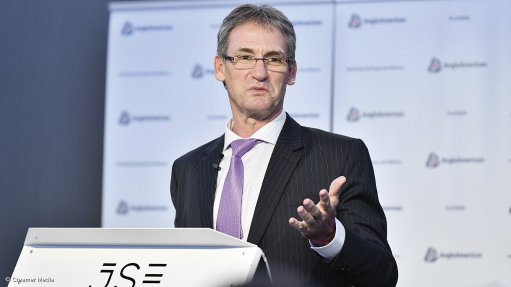 CHRIS GRIFFITH Platinum has been boosted this year by very strong investment demand of more than 700 000 oz
Platinum group metals (PGMs) mining and marketing company Anglo American Platinum (Amplats) continued to see positive demand for platinum, rhodium and palladium (3E) PGMs over the short and medium term, Amplats CEO Chris Griffith noted at the company's interim results presentation, which was held in Johannesburg, in July.
Griffith will speak at the 2019 Joburg Indaba, which will take place on October 2 and 3 at the Indaba Club, in Johannesburg.
"Platinum has been boosted this year, with very strong investment demand of over 700 000 oz going into exchange-traded funds, as well as continued healthy demand from a number of industrial sectors. The dollar basket price performed well in the first half [of the year], rising by 16% year-on-year."
Griffith highlighted that the platinum price was lower by 11%, but was offset by palladium and rhodium prices – with palladium reaching an all-time high in April.
Additionally, the rand weakened against the dollar by 15%, from an average of R12.38 to R14.26, in the first six months of this year. This had helped the rand basket price to increase by 33% year-on-year per platinum ounce sold this year, he said.
With palladium and rhodium demand dominated by the gasoline and automotive sectors in the UK, Amplats has noticed that stringent emission standards in several countries have led to an increase in the loadings on catalysts, which is more than offsetting the decline that has been witnessed in absolute vehicle numbers.
The combination of those factors actually showed that the automotive sector was scheduled for very small declines in sales this year. There should be an increase in demand again in both metals this year, with palladium deficits expected to be about 800 000 oz, he highlighted.
"The business had a relatively steady operational performance, despite headwinds that occurred in the first half – including power disruptions by State-owned power utility Eskom, as well as the unprotected strike at Mototolo."
Operations
The Unki PGMs mine, in Zimbabwe, remains a strategically important asset for Amplats as it delivered a record performance again. The mine's PGM production was up by 3% to 96 000 oz of PGMs. Griffith stated that the mine improved underground mining efficiencies, concentrator throughput, high mill time and recoveries.
"[Unki] delivered an earnings before interest, taxes, depreciation and amortisation (Ebitda) margin of 27%, a return on capital of 12%, as well as an economic free cash flow of R229-million."
This is owing to the strong performance and all-in sustaining cost (AISC) of $456 a platinum ounce sold.
The company commissioned the Unki smelter at the end of last year, which is operating as planned and has not been affected by any of the power outages in Zimbabwe.
Griffith added that, while the macroeconomic environment in Zimbabwe was challenging, the government of Zimbabwe was attempting a comprehensive structural reform programme to stabilise the economy.
"Despite these difficult local economic conditions, Unki continues to deliver."
Meanwhile, the Mogalakwena mine, in Limpopo, delivered another strong performance, producing 610 000 PGM oz. This was a 5% decline on a very strong performance by Amplats in the first half of last year.
Eskom's power outages impacted on production by about 12 000 PGM oz. There was a decrease in the concentrator throughput and recoveries, owing to the shutdown of the secondary mill of the North concentrator for maintenance.
The mine generated R3.8-billion of economic free cash flow at a negative AISC of $292/oz.
"In the second half of this year, we expect greater mining equipment availability. We bought two additional trucks, and the ore that we have now exposed will result in greater mined production in the second half."
The Amandelbult mine, in the North West, produced 422 000 PGM oz at a yearly decrease of 3%. Griffith advanced that the mine's difficult first quarter affected half-year performance, largely owing to several electrical breakdowns that were exacerbated by the Eskom power outages.
The mine had a much better second quarter, up by 19%, and generated economic free cashflow of R504-million and AISC of $672 per platinum ounce sold.
"We are starting to see some of the benefits of the Amandelbult turnaround. The immediately available developed ore reserves at Amandelbult increased by 6% from the first quarter to the second quarter. Now that we have developed the ore reserves, our focus is on converting immediately available to immediately stopeable reserves in the second half," Griffith underscored.
The Mototolo platinum mine, in Limpopo, had a difficult start to the year, with PGM production down by 21%, largely owing to three weeks of industrial action. Production at Mototolo is expected to stabilise in the second half of the year, said Griffith.
"The mine delivered an Ebitda margin of 40%. It also generated economic free cash flow of R444-million at an AISC of $237/platinum ounce sold."
Griffith advanced that Amplats expected to see an improvement in its production performance in the second half of the year.