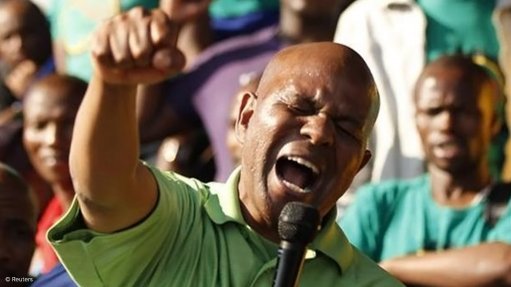 AMCU president Joseph Mathunjwa
Photo by: Reuters
The Association of Mineworkers and Construction Union (AMCU) on Tuesday warned gold miners Sibanye-Stillwater, Harmony Gold and Village Main Reef of an imminent strike, should they fail to meet the demands of mineworkers.
Wage negotiations in the gold sector started in mid-July, and AMCU and the three gold mining companies have been unable to reach an agreement, leading to a deadlock in negotiations.
AMCU president Joseph Mathunjwa said during a media briefing that the union has referred the matter to the Commission for Conciliation, Mediation and Arbitration, with a meeting to be held on September 12, during which a strike certificate may be issued, to which the miners have 48 hours to respond.
Mathunjwa stated that mineworkers in the gold sector continue to suffer on the backdrop of ever-increasing living costs and that AMCU's quest has been to negotiate a minimum living wage of R12 500 a month, which the union believes is possible in the next three years.
During the negotiating sessions, he pointed out that AngloGold Ashanti had the most "progressive" approach and made tangible offers.
The lowest paid employee working underground in the gold sector currently earns a basic salary of R6 900 a month, whereas the same employee in the platinum sector earns R11 000.
Mathunjwa maintained that this was owing to gold mining companies having been in a "comfort zone" and stuck in historical, oppressive administration.
Mathunjwa noted that wages are mines' biggest expense and that mine sustainability should always be considered; however, mine management and directors should not be getting increases of 50% and millions of rands in bonuses, before the struggling workforce is not catered to.