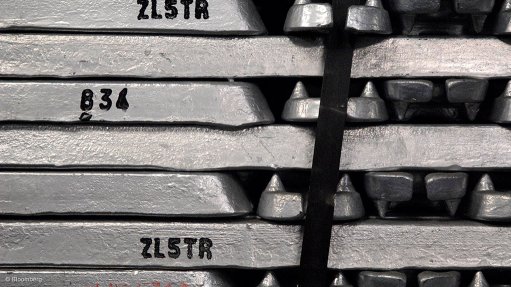 Photo by: Bloomberg
PERTH (miningweekly.com) – ASX-listed Altamin as struck a binding term sheet with Appian Natural Resources Fund II to form a joint venture at the Gorno zinc project, in Italy.
Appian, which is a global specialist mining private equity fund, would invest up to A$94-million to earn a 67.4% interest in the Gorno project.
The funds would be paid in two tranches, with the first consisting of a A$14.5-million investment to fund expanded exploration and infill drilling, permitting and the completion of a definitive feasibility study, in exchange for a near 29.9% interest in the project.
Appian would also have the right to fund a further A$79.6-million for project construction following a final investment decision (FID) to earn a further 37.5% interest in the project.
Altamin and Appian will share management of the project prior to an FID, and Altamin is expected to retain a 32.6% interest in Gorno once the project has been funded to commercial production, while also maintaining full ownership and development control of its other base and battery metals projects in Italy.
"This funding enables our work programme to be significantly expanded to test the significant near mine exploration potential and expand the resource footprint at Gorno, therefore maximising project and shareholder value, while significantly reducing equity dilution and finance risk for our shareholders," Altamin MD Geraint Harris said.
"Altamin and Appian are aligned on this strategy and the partnership with Appian also brings a wealth of new exploration and mine development experience to our team. Attracting a world-class partner such as Appian to invest in one of Altamin's projects is testament to the hard work of the Altamin team and the quality of the Gorno project, while also highlighting Italy as a Tier 1 jurisdiction for mining investment."
Appian founder and CEO Michael W. Scherb said the company is excited to partner with Altamin on the development of Gorno to realise the full potential of this project and deliver value to all stakeholders.
"The work of the Altamin team to date is a credit to themselves, and we look forward to working with them, the surrounding communities, and all other stakeholders to successfully advance the project," he said.
A 2021 scoping study into the Gorno project estimated that it could produce 630 000 t of zinc concentrate and 108 000 t of lead/silver concentrate over its mine life. The study estimated a pre-production capital cost of $114-million, excluding a pre-development capital spend of A$5.2-million.
The transaction with Appian is subject to standard conditions precedent, including Altamin obtaining shareholder approval.
Meanwhile, the company has maintained its insistence that shareholders reject a takeover offer from VBS Exchange which was received in May this year.