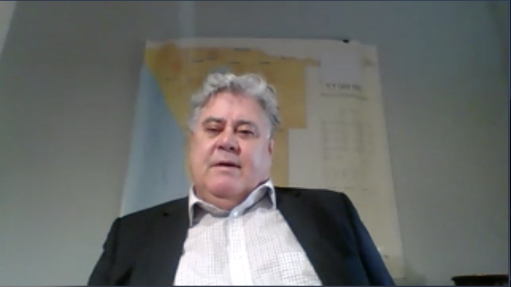 Exploration Geology Consultants exploration manager Thinus Jordaan
Photo by: Creamer Media
JOHANNESBURG (miningweekly.com) – Exploration geologists from surrounding countries should be allowed into South Africa to boost exploration.
That is the view of Exploration Geology Consultants exploration manager Thinus Jordaan, who believes that South Africa's planned exploration thrust should focus on commodities required in electronics, electric vehicles and power generation. (Also watch attached Creamer Media video.)
Jordaan put copper at the top of his list of commodities that should be chased hard, followed by heavy rare earth elements, barite, graphite, nickel-cobalt, lithium, tungsten and iron-ore.
Speaking to Mining Weekly in a Zoom interview, Jordaan spoke highly of the level of exploration skills in African countries such as Mali, Senegal, Burkina Faso, Ivory Coast, Cameroon, Central African Republic and surrounding countries.
"The skills that they have are on a par, or slightly ahead of us," he said, pointing out that exploration requires top-end skills.
"They are hard-working people and they can be put anywhere. They find their feet and they get going," said Jordaan, who has worked semi-permanently in Africa since 1993.
While there is no doubt that South Africa has the skills base, in the private sector, in the Council for Geoscience, at the universities and through the in-house training of staff, skills are being lost.
"We're losing a lot of these people. I would say, every week and not every month or every year. I hear weekly of people leaving. There's just nothing for them to do here. Nobody's putting money into the country," he noted, while pointing out that South Africa needed to build a new skills base for the Fourth Industrial Revolution.
"What is going to be a real challenge in the next five to ten years is going to be the fact that we may get left behind in the Fourth Industrial Revolution. We are not exposed to the technology there and we don't have people to train us and to train the youngsters. So, we're sort of learning on the fly.
"But the most important asset that we have here is the database that we built up here over a century of commodities that we have that can be used for certain needs and I have been involved in many of these," he recalled.
On his reasons for selecting his list of commodities on which exploration should be focused, he said: "The use of copper alone is going to quadruple. The electronics industry can't get enough rare earth elements. Barite is going to be in high demand for the fusion nuclear reactors. Graphite is required for industry as a whole and for the refuelling of 650 fission nuclear reactors for the next 40 to 60 years, and I'm not sure we have that supply. Nickel-cobalt is needed for batteries," he said, with the commodities identified found in large quantities mainly in the mafic phase of the Bushveld Complex and ancient geological terranes.
"We have the potential source for these metals," he said.
He spoke of the technology required often being partly or fully developed locally, or tested in South Africa, years before use elsewhere, and manufactured locally.
An exploration and mining campaign that allowed inroads to be made with reasonable certainty needed to be targeted.
"We need to work out the costs and planning and then source investment," he said.
Moreover, ties needed to be built with international trade and technology parties able to assist the country to reach its objectives.
"But first, we need tangible objectives and a game plan," he insisted.