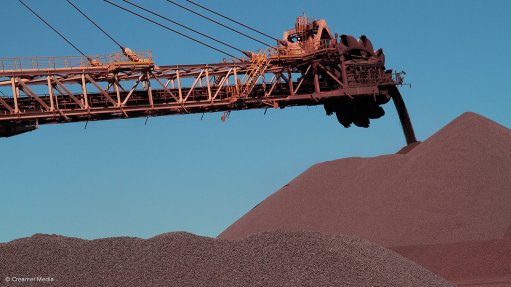 Photo by: Duane Daws
A new World Bank report forecasts that all main commodity price indices will decline in 2015, owing to "abundant supplies and, in the case of industrial commodities, weak demand".
The July Commodity Markets Outlook is particularly pessimistic on the outlook for metals prices, which are now projected to decline 17%, instead of the 12% forecast in April; a result of capacity increases and slowing Chinese demand.
The largest decline is expected for iron-ore, where a 46% slump is anticipated, owing to new low-cost mining capacity coming online, mainly in Australia.
BHP Billiton reported a 13% increase in iron-ore production to a record 254-million tons for the year to June 30, while South Africa's leading iron-ore producer Kumba Iron Ore has indicted that it is targeting a break-even cash iron-ore price of $45/t, with prices having fallen to around $50/t.
"Metals markets are adjusting by closure of high-cost operations and reduced investment. Markets will eventually tighten, in part due to large zinc mines closures and as Indonesia's ore-export ban weighs on supplies, notably nickel," the report states.
The World Bank Metals Price Index for June was also 43% below its February 2011 high when all metal markets tipped into surplus.
Risks to the metal price forecasts, the report asserts, include slower demand in China and likely tightening environmental regulations to contain pollution.
The bank has, however, revised upwards an earlier oil price projection for the year to $57/bl from the $53/bl level forecast in April. The revision reflected stronger oil demand, especially in the US.
Nevertheless, energy prices are still projected to average 39% below 2014 levels, which was largely attributable to the drop in oil prices.
Natural gas prices are expected to decline across all three main markets of the US, Europe, and Asia, while coal prices are projected to fall 17%, owing to weak import demand and surplus supply.
"Downside risks to the energy forecast include higher-than-expected non-Organisation of Petroleum Exporting Countries (Opec) production (supported by falling costs) and continuing gains in Opec output, notably from Iraq, Saudi Arabia, and Iran (especially in view of the recent agreement on its nuclear programme).
"Upside risks include earlier-than-expected closure of high-cost operations, supply restraint by major producers, and unexpected disruptions in supply stemming from geopolitical risks."
Agricultural prices are projected to decline almost 11% in 2015, with notable declines in all indices amid abundant supply and high levels of stocks. Risks to the agriculture price forecasts are also weighted to the downside, the report states.
"Most commodity prices declined in the second quarter of 2015 due to ample supplies and weak demand, especially in industrial commodities. One main exception was the price of crude oil, which rebounded early in the quarter on stronger demand but has since weakened owing to a still large global surplus. These trends are expected to persist for the rest of the year, with a modest recovery in 2016."