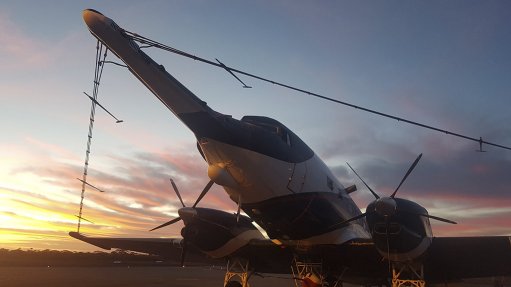 SOARING AMBITIONS Spectrem Air will keep the SPECTREM plus system in Africa for about two years, but will most likely return to Australia to meet the demand for airborne geophysics
Continuous development and improvement in airborne geophysics technology provider Spectrem Air's geophysical survey technology makes the company's SPECTREM plus system platform ideal for exploration and mapping of deep geology in difficult conditions in Australia, says Spectrem Air GM Louis Polomé.
"An upgrade in the platform's power system and changes in sensor design make SPECTREM plus a leader in airborne geophysical surveys and the system is now achieving increased depth of penetration and better geological resolution to more than 700 m below surface," Polomé asserts.
Moreover, the SPECTREM plus airborne electromagnetic platform retains extensive details in the near-surface geology.
Significant portions of Australia, as well as parts of Africa, are concealed by thick and conductive cover, making any form of mineral exploration, including those using airborne techniques, a challenge.
Polomé suggests that new mineral discoveries to be made in Australia will occur in areas that are under cover and in which the contents of the geology are not obvious on the surface.
"This is where geophysics is playing a significant and ever-increasing role in Australia, as it is in many other parts of the world," he claims.
Mining activities and the number of exploration projects taking place in Australia have been increasing since 2017, subsequently resulting in increasing demand for airborne geophysics technology providers such as Spectrem Air.
Polomé highlights that this provided an ideal opportunity to move the SPECTREM plus system from South Africa to Australia in the last quarter of 2017.
The deployment of the system in Australia was linked to a contract for Australian diversified mining and exploration company Independence Group NL (IGO) to survey significant portions of the mining company's tenements around its new Nova nickel/copper/cobalt mine, in the Albany-Frazer Range, in Western Australia.
The system has also been used for IGO's exploration projects in Northern Australia.
"The data generated by Spectrem Air has been valuable to IGO in generating a number of targets that are being investigated on the ground," reiterates Polomé.
Spectrem Air has further conducted surveys for mining companies such as multinational miner Anglo American, gold mining company AngloGold Ashanti and Australian mining, metals and petroleum company BHP Billiton, in the last 18 months.
The company also contributed to scientific research of Australian government scientific research agency the Commonwealth Scientific and Industrial Research Organisation.
Ideal Relocation
Polomé emphasises the distinctive challenge in logistical support in moving the SPECTREM plus system between Africa and Australia.
"The time has come to relocate the system back to Africa, where activities have been steadily increasing," Polomé points out.
While the SPECTREM plus platform, which is based on the modern Basler DC3 BT 67 aircraft, is well suited for long ferry conditions, a trip from Australia to South Africa takes up to eight days to complete.
The aircraft initially begins its journey in the most northern part of Australia, from where it is moved to Bali, Palembang and Banda Ache, in Indonesia; Colombo, in Sri Lanka; Mumbai, in India; Muscat and Salalah, in Oman; Djibouti, located in the Horn of Africa; Nairobi, in Kenya, and Lilongwe, in Malawi; before it arrives at Lanseria Airport, in Johannesburg.
Polomé states that, while two experienced pilots and an aircraft engineer handle the ferrying, the lack of an autopilot facility can make ferrying strenuous for the crew.
"The plan is to keep the system in Africa for the next year or two, but the platform will most likely return to Australia, where demand for airborne geophysics services will continue to increase for a significant period."
Further, Polomé emphasises the challenge of finding suitable local bases and airports that can provide the necessary support and maintenance infrastructure when relocating the aircraft and large amounts of equipment into remote locations.
The company has extensive experience from its operations in remote locations in Africa and Australia, which has contributed to updates in the aircraft's capabilities. Subsequently, the aircraft's endurance in the air has been increased to eight hours.
Polomé argues that this increased endurance is the most unique aspect of the SPECTREM plus platform.
"The airborne geophysical technology is continuously being developed. The main focus currently is on improved data processing and better geological interpretation."
The company is also involved in the final commissioning of a new superconductor magnetic gradiometer sensor, known as SQUID, in South Africa, which has been developed by Anglo American and diamond exploration company De Beers. The technology will enhance the capability of the sensors used in airborne geophysical surveys.
"Once the airborne implementation is completed, it is certainly the intention to deploy that technology in Australia, Africa and Canada," he concludes.