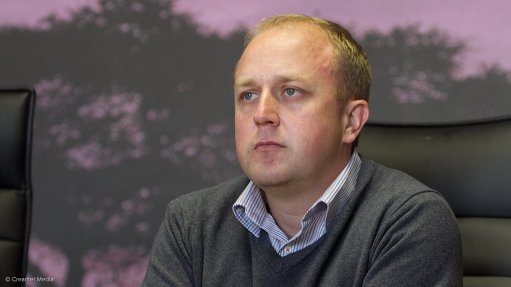 AfriTin CEO Anthony Viljoen
Photo by: Creamer Media
JOHANNESBURG (miningweekly.com) – Bushveld Minerals' tin-focused subsidiary AfriTin Mining has completed the detailed mine design at its flagship asset Uis tin mine, in Namibia.
Following the completion of a mapping programme and construction of a three-dimensional geological model, AfriTin undertook a detailed mine design for the V1 and V2 pegmatite bodies at the site, which were previously identified as priority targets to supply feed to the company's intermediary processing plant.
The mine design includes an initial five-year mine production schedule to start operations on the outcropping pegmatite bodies and existing excavations of the historical V1 and V2 pits.
AfriTin on Wednesday said this mine plan supports an overburden stripping ratio of less than one (overburden-to-ore ratio) and a fast ramp-up profile using conventional openpit mining methods.
Material will be liberated through drilling and blasting, while excavators and articulated dump trucks will be used to load and haul the ore.
The run-of-mine feed to the processing plant, for this phase of development, is planned at 500 000 t/y, with anticipated production of 800 t/y of saleable tin concentrate. The target for the following phase is 5 000 t/y of tin concentrate.
The processing plant will be located close to the V1 and V2 pegmatite bodies. Earthworks and civil works construction are scheduled to start during May. AfriTin aims to have production on track in the second half of fiscal year 2018.
"While we believe Uis has the resources to be a long-life operation, this phased approach should provide a platform for sustainable early cash flows. It should also derisk the implementation of a larger-scale mining and processing facility which, in turn, should allow us to progress long-term project financing options," AfriTin CEO Anthony Viljoen said.