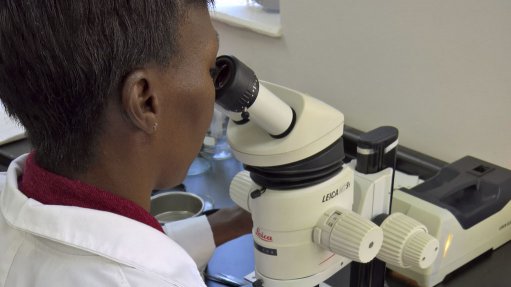 GROUNDWORK ESSENTIAL As a first-stage evaluation of diamond grade, micro-diamond analysis can prevent significant expenditure on the bulk sampling of non- or subeconomic kimberlite
As exploration activity in the African diamond mining industry resurges in expectation of a supply shortfall in the next five to eight years, mining consultant The MSA Group is preparing its facilities to meet a growth in demand for its services.
"Compared with a relatively quiet year in 2016, we have seen a remarkable increase in proposal requests and project conversions in 2017. We were recently awarded the management of a large-diameter drilling programme for macrodiamond recovery for a kimberlite project in Botswana and several studies, including a competent person's report, on Lesotho kimberlites," says MSA diamond laboratory manager Hilde Cronwright.
She notes that, historically, diamond producer De Beers dominated the global diamond exploration arena by sampling and using geophysical exploration techniques to systematically explore large areas of Africa and other continents, and analyse the recovered kimberlite indicator minerals (KIMs) geochemically. De Beers identified numerous targets and kimberlites, many of which were considered too small or subeconomical at the time of discovery for further evaluation.
For the past ten years, several companies have been following up on previously discovered kimberlites, testing their diamond grade and economic viability, while also working in known diamond fields to identify smaller kimberlites that may have been overlooked.
Moreover, existing major diamond producers like Debswana – a joint venture (JV) between De Beers and the Botswana government – and Petra Diamonds are conducting mine expansion programmes aimed at increasing production capacities to meet the forecast diamond shortfall within the next ten years. Many of these producers are also reprocessing older tailings to recover diamonds.
Facilities Upgrades
In light of this activity, Johannesburg-based MSA is taking steps to position itself as a leading diamond exploration consultancy in terms of its technological capability and processing capacity.
MSA offers the diamond industry two main ISO 17025-accredited services – a heavy minerals analysis method for exploration samples and a microdiamond analysis (MiDA) method to test the microdiamond content in kimberlite samples using a caustic fusion preparation technique.
Following the closure of inspection, testing and certification specialist SGS South Africa's caustic fusion preparation facility in 2016, MSA partnered with mining equipment supplier Min-Met Equipment to successfully commission a new custom-built caustic fusion preparation facility in Brakpan, Gauteng, which opened in December.
"This is the only facility in Africa able to perform MiDA and it is ideally placed to service our clients on the continent. We have processed about 800 kg of kimberlite samples to date and achieved an average recovery rate of 97.5% of synthetic diamond spikes, which are used to measure diamond recovery efficiency. These results exceed our quality requirement target of a 90% spike recovery."
MSA and Min-Met are also developing their capacity to process bulk samples for macrodiamond recovery and, if market conditions require, Cronwright highlights, the company is well positioned to expand its caustic fusion and microdiamond sorting capacity.