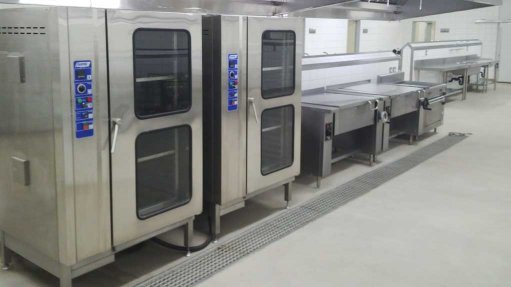 DIVERSIFIED CLIENT LIST The continued operation of existing mines, together with the company supplying products to other secturs, ensures that it is better positioned to handle a mining downturn
Mass accommodation product supplier Ascot Site Solutions affirms that Africa remains its primary market, as it is still its main growth area, with the company particularly focused on the continent's Copperbelt region, stretching across Zambia and the Democratic Republic of Congo.
The South African company's focus has "always" been on the rest of the continent, says Ascot MD Rhett Bellamy, emphasising that, with the rise in the copper price, it will assess opportunities and pursue work within the Copperbelt region, especially in light of the "megamines" that are already operating there.
He notes that, as with all mining and mining-related companies, the recent global slump in commodity prices and mining activity have affected its business. However, Ascot has been more fortunate than many mining industry players, owing to the consumable nature of many of its products, Bellamy points out.
"At a 5 000-man mine site, beds, cutlery, crockery, linen and other items need to be upgraded and replaced on a semi-regular basis." Bellamy points out that, unlike other mining-dependent companies, Ascot's ability to service the mining industry does not depend on a boom in prices and increased exploration activity – although those factors would undoubtedly play in the company's favour. Rather, Ascot depends on its clients' mines remaining operational, even if those operations are not necessarily productive or profitable.
The continued operation of existing mines, together with the company's supply of products to hostels, universities, prisons, hospitals, defence forces and industrial catering companies, ensures that Ascot is better positioned to handle a mining downturn than most mining stakeholders.
Bellamy also notes that Ascot prides itself on its technical department and its commitment to meeting clients' needs. "If a client doesn't have the capital to buy new equipment, such as laundry machinery, we can supply spare parts for the refurbishment of existing equipment."
Further, with commodity prices recovering, and its African focus in place, Ascot has secured work with companies in West Africa, "where a comparatively large proportion of mining projects are forging ahead".
Bellamy notes that Ascot supplied products for an 80-man camp site at a gold mine in central Mali in May. Laundry equipment and furniture were supplied for the camp at a cost of R2.3-million, following the company having been approached by a South African engineering, procurement and construction management company on behalf of the gold mine's owner.
"It was a competitive bidding process. I believe we were chosen as a result of our complete offering and experience working in the sector, which enables us to understand the challenges posed by this sort of remote project," Bellamy says. Final delivery was made on May 29, eight weeks after the order was first placed.
While fulfilling its contract, Bellamy explains that Ascot dealt with a tight timeframe and "we had to ensure that everything delivered was on time and 100% correct".
Ascot also had to ensure that the equipment was "packed in such a way that it could handle the rigours of travelling for eight weeks without sustaining damage. We overcame this through employing keen attention to detail and a strong supply chain".
Bellamy says the company's ability to manage challenges and effectively communicate with clients is the recipe to the success of all its projects.
In terms of logistics, Ascot has a small fleet of vehicles which are used for deliveries in South Africa. "Any cross-border deliveries are handled by a nominated freight company. Given the difficult conditions experienced in transporting goods across African borders, we leave this up to the professionals. For Southern African projects, we tend to use road freight services, while for projects north of the Copperbelt, it is best to use seafreight."
Ascot's goal is to be the supplier of choice of entities involved in providing mass accommodation. Bellamy concludes that the company hopes to consistently supply the latest and cost-effective products and services in a simplistic, yet functional, manner to an ever-expanding network of customers.