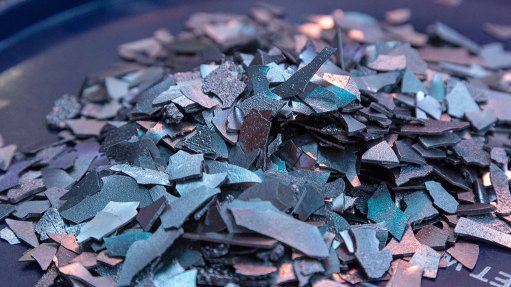 Cobalt
The world is increasingly electrifying, while also focusing on environmental protection using green technology to do so, and Africa needs to capture as much of the investment value that goes along with those trends, Bushveld Minerals CEO Fortune Mojapelo has said.
Speaking during a panel discussion on environmental, social and governance (ESG) aspects and "green metals" on the second day of the virtually-hosted Investing in African Mining Indaba, he mentioned that the mining industry was embracing the mantra of going beyond compliance, moving away from ESG considerations being on the periphery and including those considerations in their core strategies.
"Regulation, as a tool to drive ESG, is insufficient; it is only a starting point. Certainly, investors are looking more at ESG commitments and they are defining due diligence capabilities around ESG outcomes.
"For mining, particularly, there are important themes worth emphasising: the application of the mined products, since mining is increasingly recognised as driving down carbon footprints thanks to rare metals; and repeated or recycled use of metals, which speaks to the circular economy narrative; and the industry's focus on environmental responsibility," he explained.
Deloitte Africa associate director Dr Jacek Guzel agreed, stating that mining had not traditionally been recognised as the cleanest and greenest among industries, but that perception was changing owing to the adoption of clean technologies derived from mined metals.
Africa's natural resources are key, Mojapelo said, noting that the impact that "going green" had on demand for battery metals – whether it be copper, nickel, cobalt or platinum-group metals (PGMs) − was massive.
For example, an electric vehicle (EV) contains up to four times more copper than a fossil-fuel-driven vehicle. This while stationary energy storage, as another example, is expected to grow 122 times in market size to 2 580 GWh/y in the next decade.
"This is about $600-billion of capital investment we are talking about and Africa needs to devise strategies around capturing as much of that value as possible," Mojapelo asserted.
He highlighted his hopes for a concerted collaboration effort between all mining stakeholders to take advantage of this energy transition, in terms of setting standards, devising local content provisions in major energy initiatives, allowing self-generation for large energy users, crafting tariff strategies and developing new markets.
Mojapelo said Covid-19 had shown that this type of collaboration between the public and private sectors, as well as labour, society and other stakeholders, was possible.
Moreover, Absa Bank natural resources MD Shirley Webber said capital was all the more being refocused on sustainability. She mentioned that Absa had been seeing things changing, including financial reporting to incorporate what companies are doing for the environment, over the last 18 months.
The financial services industry itself has also climbed on the wagon with many firms signing the United Nations' Principles of Responsible Banking, which helps to align funding institutions' strategies with that of business strategies and society's goals.
Extractive Industries Transparency Initiative Africa director Bady Baldé pointed out that, just as Covid-19 had forced mining companies to rethink their business models and operational way of working, so too must governments in Africa change and adapt their approach.
He believes African countries need more timely and more evidence-based policies that are not behind the curve of what is happening on the ground, particularly not if this continues to lead to the displacement of vulnerable communities.
"Government can no longer base policy on old business models. On this matter, the private and public sectors can surely collaborate. We would like to see a more comprehensive approach, more international collaboration on standards for market actors in the industry to adhere to, with implementation left at national level.
"This would, however, require African governments to move with more urgency," Baldé said.
Research organisation Bloomberg New Energy Finance lead PGMs analyst Dr Kwasi Ampofo discussed his view on the EV and hydrogen-powered fuel cell vehicle transition, pointing out that, by 2030, the world would likely see 26-million new EVs being sold and that 70% of new vehicles sold in China would be electric, while 60% of new vehicles sold in the US would be electric.
He added that hydrogen adoption could increase by 25% in light vehicles, while hydrogen could penetrate as much as 40% of the global heavy-vehicle fleet by 2040.
With this demand comes responsibility for miners. The lithium market, for example, will grow by ten times what it is now over the next ten years. The cobalt market will grow by 2.5 times.
"Aluminium demand will grow eight times relative to last year over the next ten years. Looking at all these metals, cobalt is heavily concentrated in the Democratic Republic of Congo, platinum in South Africa and nickel in Madagascar. It is up to these economies to seize the moment," Ampofo said.