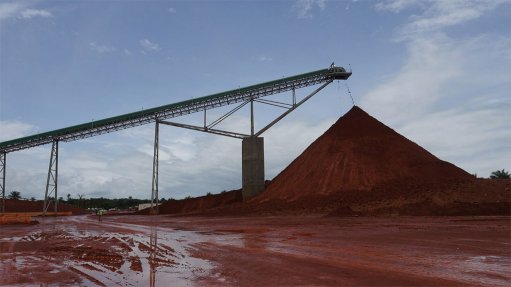 Infrastructure development finance institution Africa Finance Corporation (AFC) on Wednesday announced the on time completion of the Bel Air mine, in Guinea, and its first shipment of high-grade bauxite to China.
The construction of the mine was completed on time and within budget.
Steady-state production capacity will be 5.5-million tons of bauxite a year, which will add to Guinea's average exports of about 35-million tons a year.
The Bel Air mine, developed by bauxite producer Alufer Mining, is located in the Boffa region of western Guinea. It was financed as part of an international investment consortium, which included AFC, the sole African private sector financier; private equity firm Orion Mine Finance; and mining-focused equity firm Resource Capital Funds.
The total invested by the consortium was $205-million, making it the first and largest foreign investment in Guinea since the 2014 Ebola crisis.
During construction, the project employed over 1 500 people, 85% of whom were Guinean nationals, more than half being from local communities.
"This marks a significant milestone for the corporation, demonstrating its commitment to investing across Africa and providing employment and sustainable economic growth for those who need it most," the AFC stated.
"The scale of African demand for financing infrastructure investment and maintenance is high. Traditional sources of public financing and weakened economic conditions in many regions of the world, including those ravaged by Ebola, have magnified the need for private capital," commented AFC executive director and chief investment officer Oliver Andrews.
The development of the mine also included the construction of the first sea port to be built offshore West Africa in the last two decades.
Andrews noted that the mine and port's completion enables employment, as well as "much-needed connections with international markets that will support sustainable growth for Guinea's mining industry".
Alufer CEO Bernie Pryor added that AFC had been an integral partner in the success of the Bel Air mine's development and that Alufer looked forward to working with AFC to deliver substantial returns for all stakeholders while creating a positive and lasting legacy for the people of Guinea.