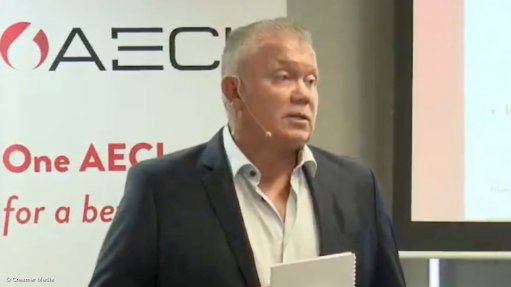 Mark Dytor AECI CE
JSE-listed chemicals group AECI increased its revenue by 8% year-on-year to R26.05-billion in 2021 and declared a total ordinary dividend of R6.85 a share – up 20% year-on-year.
The company declared a final ordinary cash dividend of R5.05, 7% higher than the R4.70 in 2020.
AECI's mining and chemicals businesses were the units most affected by the Covid-19 pandemic in 2020, but recovered well in 2021, with AECI Mining benefiting as global mining activity returned to more normalised levels.
AECI Chemicals further benefited from the strategic realignment process completed in 2020, which delivered in line with expectations. The business was further boosted by a level of overall improvement in South Africa's manufacturing, infrastructure and general industrial sectors, albeit from a low base.
Of group revenue, 41% was generated outside of South Africa, down from 44% in 2020; with the stronger average rand exchange rate against these major currencies having had an impact.
AECI's earnings before interest, taxes, depreciation and amortisation grew by 5% year-on-year, to R3.09-billion in 2021, while profit from operations recovered by 124% to R2.05-billion.
Headline earnings a share of R11.16 were 27% higher year-on-year, while headline earnings increased to R1.17-billion from R928-million in 2020.
The net asset value a share attributable to ordinary shareholders increased by 7%, from R96.79 in 2020 to R103.84 in 2021, while basic earnings a share increased from R1.27 in 2020 to R11.25 in 2021.
Compared with 2020, which had been negatively affected by impairments of certain property, plant and equipment and goodwill to the value of R890-million (mostly relating to the goodwill on the acquisition of AECI Much Asphalt), there were no impairments during the period under review.
In terms of debt, AECI repaid R1.87-billion in term debt in 2021, while maintaining a robust net gearing ratio of 24%, up from the 22% of 2020.
During the period, AECI also invested in inventory to ensure supply is available to meet increasing demand in an environment where supply chain timing has extended and disruptions have become frequent.
Meanwhile, after a tenure of 12 years, AECI nonexecutive director Rams Ramashia will step down at the next annual general meeting on May 31.
During his tenure in the role, Ramashia served as a member of the remuneration and nomination committees, as well as chaired the social and ethics committee prior to becoming chairperson of the risk committee.
RECORD HEALTH & SAFETY YEAR
Meanwhile, AECI achieved a new record for all its occupational health and safety indicators in 2021 with its total recordable incident rate having improved to 0.23, from 0.42 in 2020.
In this regard, AECI notes that, while the Covid-19 pandemic continued to present numerous challenges to its employees, the company learnt how to deal with the pandemic in the workplace and its employees renewed their commitment to achieving zero harm by re-committing to AECI's safety improvement plan.
A key part of this plan is the standardisation across the business of items such as safety, health and environment risk descriptors, processes and systems.