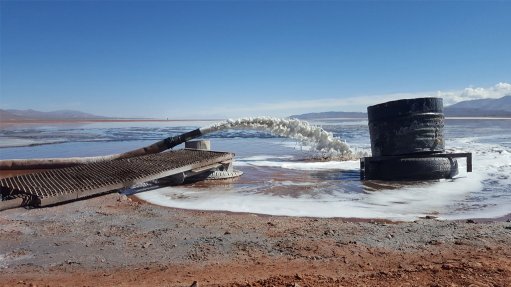 Cauchari, Argentina
Photo by: Advantage Lithium
VANCOUVER (miningweekly.com) – The TSX-listed equity of explorer Advantage Lithium rose more than 7% on Wednesday after it reported a six-fold resource increase at the Cauchari joint venture (JV), in Argentina.
The Vancouver-based company reported a three-million-tonne inferred resource that comprises the northwest and southeast sectors of Cauchari. The resource comprises about 1.2-billion cubic metres of brine at average grades of 450 mg/ℓ lithium and 4 028 mg/ℓ potassium.
The grades were 18% higher than the previous estimate of 470 000 t grading 380 mg/ℓ lithium.
The grade of the adjacent Olaroz-Cauchari JV, owned by Lithium Americas, also comes in 25% higher.
The technical report produced by FloSolutions pointed out that the updated resources cover a significantly larger area and extend to greater depths in the northwest and southeast sectors, and it is indeed at depth where the company believes there to be potential for additional resource expansion and higher grades, especially in the SE sector.
"In the span of just over a year, we have delivered a [more than] 600% increase to the lithium resource at our Cauchari project. This achievement reflects both the world-class nature of our project as well as the expertise and focus of the project development team in Argentina. We are confident that our Phase III programme, already under way, will continue to deliver strong results and expand the resource further," Advantage founder and CEO David Sidoo said in a statement.
In parallel with its Phase III programme, Advantage will be aiming to complete a preliminary economic assessment in the second quarter and then progress immediately to a definitive feasibility study to examine a potential 20 000 t/y lithium carbonate operation.