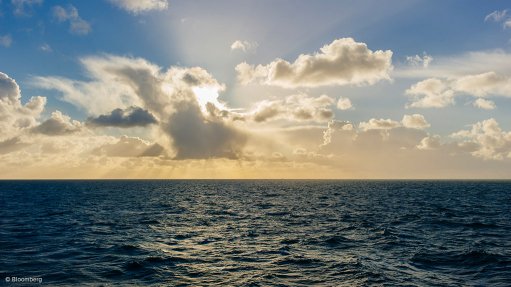 Photo by: Bloomberg
VANCOUVER (miningweekly.com) – In a new era of ever-advancing technology and increased legal certainty, ocean floor mining is set to take off in the next decade as several juniors jostle to be first to exploit the wealth hidden on the deep ocean floor.
DeepGreen Resources chief development officer Anthony O'Sullivan believes it is in the running to reach the ocean depths, with access to a prime base metals tenure in a prospective region of the Pacific ocean floor.
The company's flagship Nori project is part of the Clarion Clipperton Zone (CCZ) of the Central Pacific, which was first discovered in 1873 – an area believed to hold an abundance of the polymetallic nodules, with metal concentrations occurring on the vast abyssal plains at a depth of about 4 000 m to 6 000 m in international waters, O'Sullivan told an audience attending the fifty-sixth Annual Conference of Metallurgists, in Vancouver.
According to a 2010 estimate, some 21-billion tonnes of nodules found in the CCZ are estimated to hold six-billion tonnes of manganese, 270-million tonnes of nickel, 234-million tonnes of copper and 46-million tonnes of cobalt. The nodules comprise oxides and hydroxide, with low deleterious arsenic, antimony and mercury.
O'Sullivan advised that the nodules show low head-grade variability, with the 2 cm to 10 cm size rendering them easy to handle. The company expects to use a slurry-based offshore harvesting system, with the suction process recovering about 13 cm of seabed sediment, and producing a diluted slurry.
"Accessing these minerals would disrupt the mining industry," stated O'Sullivan.
LEGAL PICKLE
Despite successful trial mining in the late 1970s by four groups of majors, undersea mining was halted in its tracks on legalities.
No one could obtain clear title to the 'ground', since no legislation existed for it. This led to the establishment of the United Nations Convention on the Law of the Sea in 1982, which resulted in the UN International Seabed Authority (ISA) being set up in 1994. Of 186 signatories to the ISA, the US is auspicious in its absence.
The ISA granted DeepGreen a seabed licence in 2012, with the Marawa licence following in 2015. DeepGreen has since patented its hydrometallurgical process, which is able to process polymetallic nodules into eight saleable products.
DeepGreen has further garnered the backing of major firms such as Glencore, Maersk and the Fiore Group mining finance firm.
Under DeepGreen's preliminary production profile, it will process 4.8-million tons of ore to produce about 63 000 t of nickel, 1.5-million tonnes of manganese, 55 000 t of copper and 6 000 t of cobalt.
A CASE FOR THE OCEAN
Population is the main driver for underlying demand growth in the long term, according to O'Sullivan. "But we need to do it better than what was successfully achieved in the past," he said.
Added demand comes from advancing metals-intensive renewable energy technologies, as underlined by an average 5 MW wind turbine requiring about 15 t manganese, 5 t copper, 5 t nickel and 5 t molybdenum.
Adding to increasing demand over the next five years for nickel, manganese, copper and cobalt are proliferating mobile and remotely operated applications, population growth, and developing countries transitioning to urbanised and industrialised societies.
DeepGreen's Nori Area D seafloor polymetallic nodule deposit contains high concentrations of these critical minerals. The company believes it can extract these metals in a more environmentally and societally acceptable way, to produce cleaner base metals.
O'Sullivan pointed towards forecasts for surging metals demand growth, with a basket of 'energy metals' comprising graphite, nickel, aluminium, copper, lithium, cobalt and manganese expected to surge by more than 1 000% by 2030.
Deposits for these metals are getting harder to find on land and are encumbered by the environmental and societal impacts of mining. Resource quality is also on the decline, with average copper grades falling from about 1.3% in 1982, to less than 1.1% today. Resource grades are also on the decline, with much fewer major discoveries being made in the past five years.
The social and environmental advantages include clean mineral processing; no social displacement; no deforestation; high grades, minimal overburden, stripping or waste; and reusable production infrastructure, which means that the company can merely lift anchor and move to the next production site.
Compounding matters is the fact that the easy-to-deal-with sulphide ores are getting depleted, with harder laterites now becoming the norm and requiring more energy to process.
But the world's largest resource is at sea, laying thousands of kilometres on the seafloor, where sea currents and the tremendous deep-water pressure precipitate the polymetallic nodules. The nodules vary in size and are formed from concentric layers of iron and manganese hydroxides around a core. They cover extensive areas of the ocean's abyssal plains.
DeepGreen's Nori zone has an inferred resource of 900-million tonnes grading 1.3% nickel, 29.3% manganese, 1.08% copper and 0.18% cobalt, for a copper equivalent grade of 7.2% and 49-million tonnes of copper equivalent.
"The resource is by far superior to land-based base metals projects," O'Sullivan declared.
FIRST TO THE BOTTOM?
Meanwhile, rival aspirant marine miner Nautilus Minerals has gone into hibernation mode while its support vessel is under construction in China. The company is undertaking submerged testing of its fleet of seafloor production tools, following the equipment's arrival in Papua New Guinea (PNG), where it plans to achieve production from the Solwara 1 project, offshore PNG in the Bismarck Sea, in the first quarter of 2019.
Nautilus formed a joint venture company with PNG's nominee, Eda Kopa (Solwara), in December 2014, to mine high-grade polymetallic seafloor massive sulphide deposits. Nautilus has an 85% shareholding and Eda Kopa 15%.
Nautilus in September announced a revised work programme, pending the company successfully raising the required capital by June. It entails a more staged approach, moving the Nautilus equipment integration phase of vessel construction out until after the vessel has been delivered by Fujian Mawei Shipyard and Marine Assets Corporate in the fourth quarter of 2018, resulting in a 12-month delay to the original schedule.