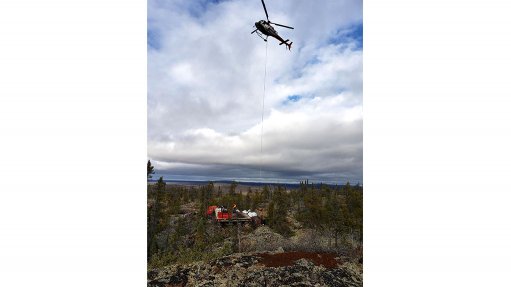 UNDER THE SOIL The unique mineral assemblage of the NICO deposit makes it a primary cobalt deposit that includes 1.1-million ounces of gold, 12% of global bismuth reserves and minor by-product copper
Mining company Fortune Minerals has invested more than C$135-million to advance its NICO cobalt/gold/bismuth/copper project from an in-house discovery to a near shovel-ready vertically integrated critical minerals asset with a positive feasibility study, environmental assessment approval, and the Type 'A' water licence needed for development.
The NICO project consists of a planned openpit and underground mine and concentrator in Canada's Northwest Territories, and a related hydrometallurgical refinery in Alberta that will produce cobalt sulphate for the rapidly expanding lithium-ion battery industry as the world transitions to e-mobility.
The unique mineral assemblage of the NICO deposit also includes 1.1-million ounces of in situ gold, 12% of global bismuth reserves, and minor by-product copper.
Fortune Minerals president and CEO Robin Goad says the project will provide a reliable North American supply of critical minerals that are produced responsibly with entrenched Canadian environmental, social and governance values.
The refinery site Fortune holds under a purchase option includes 42 000 ft2 of serviced shops and buildings and services that will reduce capital expenditures by an estimated C$45-million.
Goad explains that construction of the NICO project mine and concentrator is anticipated to take two years after project financing is secured. The refinery construction is expected to take 18 months and will be built concurrently.
"The project could be commissioned in three years after receipt of the requisite funding," he says.
Critical Minerals Demand
The NICO project will have average yearly production of 1 800 t of cobalt, contained in a battery-grade cobalt sulphate heptahydrate product over the first 14 years of the 20-year mine life. It will also produce, on average, bismuth of 1 700 t/y, contained in metal ingots and oxide products. These represent about 1% and 8%, respectively, of current global production for cobalt and bismuth.
Additionally, the project is expected to have average yearly production of 47 000 oz/y of gold during the initial 14 years of the mine life, states Goad.
"The gold contained in the NICO project represents a counter-cyclical and highly liquid co-product to mitigate critical mineral price volatility."
Meanwhile, the Canadian and US governments have signed a Joint Action Plan on Critical Mineral Collaboration to enable greater North American production of the minerals identified as essential to economic and national security.
The US government is particularly concerned about energy and raw materials security and is taking steps to reduce its dependence on foreign supplies of the critical minerals needed for the energy transition.
Purchasers of electric vehicles in the US can qualify for a $7 500 tax credit, which has been extended under the recently enacted Inflation Reduction Act, provided that the critical minerals contained in the batteries are sourced from the US or a country with a free-trade agreement with the US.
In terms of hinderances to mine development, Goad notes: "New deposits take too long to be developed; the industry is encumbered by increasingly cumbersome permitting processes, and mining companies have failed to deliver the returns expected by today's investors."
In addition, access to prospective lands to conduct mineral exploration and development is being reduced by government protection measures and land claims.
Moreover, many critical minerals concentrates cannot be processed in existing smelters and refineries in Canada, says Goad.
Critical minerals projects require their own downstream processing plants, and must employ hydrometallurgical methods to recover the metals and stabilise waste products for safe environmental disposal.
Goad says the additional costs for developing metallurgical flowsheets, attaining the required permitting, and the construction and operation of a downstream process facility can double the capital costs for a new project, making the threshold for economic viability much higher.
Critical Minerals Strategy
The Canadian government's 2022 budget included C$3.8-billion to support the critical minerals industry and a Critical Minerals Strategy was released last December.
The strategy intends to increase the supply of critical minerals – such as lithium, graphite, nickel, cobalt, copper and rare earth elements – and support the development of domestic and global value chains.
Moreover, government plans to review the permitting process to reduce the time required to bring mines online by avoiding duplication and ensuring early indigenous consultation and engagement.
It also covers the need for new infrastructure investment to unlock minerals projects in remote locations, he explains.
However, Goad cautions that there has been little evidence of these strategies being implemented and the goals have been short on execution.
The US also announced last year that $600-million was provided to support projects under the Defence Production Act Title III as a consequence of the war in Ukraine.
Part of this funding will be used to expand domestic capacity and invest in the domestic production of strategic and critical materials, as they are necessary for national defence and economic security.
The NICO project is one of the few development-stage cobalt assets in the world outside of the Democratic Republic of Congo and, considering that its planned refinery will be independent of China, when considered in terms of the US and Canada's stated minerals strategies, it is therefore in an advantageous position, Goad says.