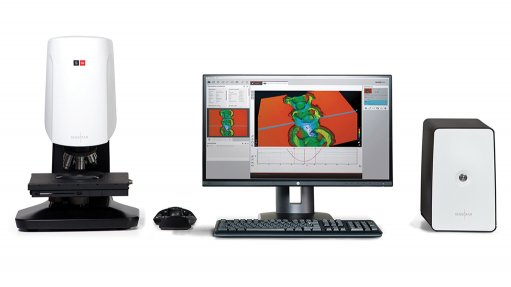 Quality control and assurance of the products produced with conventional machining, casting or forming manufacturing is well established. This is accomplished by incorporating quality control throughout various stages of the process - from the design stage trough manufacturing to the final inspection. These steps involve the use established paper standards and physical standards. Examples of paper standards are ISO 230, which ensures the machine tools used are inspected for accuracy, while ISO 10360 ensures the accuracy of Coordinate Measuring Machines (CMM), which are used to measure the parts.
Additive Manufacturing (AM), however creates both new challenges and opportunities with regards to quality control. In some cases, there are no paper standards for the product, and the measurements are confounded since AM is used to produce unique parts, with complex geometry. This geometry also involves internal structures, not accessible with touch probes, hand gauges or vision inspection methods. On the other hand, the future of AM predicts complete in-process monitoring from the feedstock material to final part. This will lead to a per part, per voxel, digital quality assurance, which in turn is a key requirement for Industry 4.0. Key terms which used are 'digital twin' or printing first time right.
What does this mean for South Africa? Not only does the South African industry need to rapidly adopt fit for purpose AM solutions, develop their own AM machines and feedstocks to ensure competitiveness, but South Africa also need to advance the required technical quality infrastructure. Quality assurance is indeed one of the significant technical barriers for AM adoption. This is also where the National Metrology Institute of South Africa (NMISA) plays a key role through its recently established Additive Manufacturing Facility.
Metrology, the science of measurement, provides for the accuracy of measurements, which is demonstrated by traceability of measurement results to national measurement standards. NMISA is responsible, as mandated and funded by the Department of Trade, Industry and Competition, for providing national measurement standards for South Africa and to demonstrate that these are internationally equivalent. It means that parts measured to be a certain size in South Africa, ought to be the same size, within the given measurement uncertainty, when measured anywhere else in the world. Metrology therefore plays an essential role in quality assurance, which enables international trade.
Target AM industries include mining, aerospace, biomedicine and manufacturing. The production of surgical guides and implants is just one area of current growth and of significant potential for South Africa. NMISA has acquired an extensive range of advanced measurement instruments to support these industries, which are summarised in the table below.
Coordinate Measurement Facility
Measure three-dimensional part size, for conformity inspection according to Geometric Dimension & Tolerancing
3D Measurements:
Zeiss Prismo Ultra
High accuracy measurements, e.g. master parts,
Accuracy better than 1 µm
3D Measurements:
Mitutoyo UMAP
Very small parts or features. Vision system and touch probe. Touch probe diameter of only 35 µm
Nano Metrology – Surface Texture
Surface texture or roughness is the fingerprint of any manufacturing process and is a critical parameter when developing a new process or for monitoring process performance.
Contact: Taylor Hobson Talysurf
Very high range to resolution ratio – less than 1 nm over 10 mm
Non-contact:
Sensofar Optical Profiler
Ideal for non-contact surface measurements
Materials Characterising Facility
Material Properties
The chemical and microstructural properties of materials affect part performance. This can be characterised during process and part development, as well as for part failure analysis.
Particle Geometry size, shape and distribution
Feed powder particle size and shape affects powder flow and print quality. Particles sizes range from
20 nm to 3 mm
Instruments: laser diffraction systems, high resolution electron microscopes and optical microscopes
Additive Manufacturing Facility
X-CT Measurements:
XLON CT scanner
Defects such pores, loose powder and cracks can be measured with an industrial 3D X-CT instrument, as well as internal geometry and powder particle internal voids. (NMISA recently ordered a YXLON CT scanner) 1 nm = 0,001 µm; 1 µm = 0,001 mm
The NMISA AM Facility also supports its internal research and development activities, for example the rapid production of specialised instrument mounts. Normally such jigs or fixtures take a significant amount of time and are costly to obtain through procurement or subtractive manufacturing, as these components are almost always manu-factured and imported for niche industries. NMISA facility will also enable collaboration with researches on optimising AM processes and feedstocks. The types of apparatus available for such collaboration include thermoplastic extrusion, continuous fibre, photo polymerisation. In addition, a metal powder bed fusion machine is being installed.