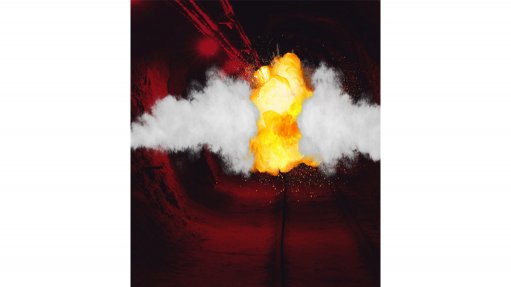 FIRE SUPPRESSION SYSTEM Active roadway barriers are automatic explosion-suppression systems designed specifically to stop and suppress methane gas and coal dust explosions at the point of ignition
Following the update on the prevention of flammable gas and coal dust explosions in collieries published in April this year by the Mine Health and Safety Council (MHSC), active roadway barriers are now part of the MHSC guideline on preventing flammable gas explosions at South African coal mines.
Active roadway barriers are automatic explosion-suppression systems designed specifically to stop and suppress methane gas and coal dust explosions at the point of ignition, explains explosion, fire and dust-suppression system original-equipment manufacturer Explospot Systems CEO Arend Späth.
The barriers are commonly installed on continuous miners to suppress methane gas explosions at the coal face or in underground roadways; they are also installed on feeder breakers and stop a methane gas and coal dust explosion prior to entering the conveyor roadway. Standalone systems can be installed in other entry and return airways.
Owing to the various mitigation controls, the primary difference between an active and a passive barrier is that the inerting material within the passive barrier gets exposed to an explosion while the preceding pressure wave ruptures a "passive" container. Active barriers are mechatronic devices that monitor the environment and react according to an event such as an explosion. The suppression material is being disbursed optimally within the roadway by the spray nozzles of the active barrier. While the systems work independently, both systems need to be functioning properly to suppress and stop an explosion.
Späth notes that the barriers are mandated, either by legislation (e.g. MHSC) or a mine's code of practice – a mine might use continuous miners fitted with active explosion barriers instead of drill and blast mining operation to penetrate burnt coal. Active and passive barriers will have been tested according to accepted protocols, and meet the requirements of stopping and suppressing the explosion, he says.
Explospot Systems offers a range of active explosion barriers that are "unique in their effectiveness, robustness and operational friendliness in underground coal mines".
The barriers also push the suppression material into the explosion, thereby creating a barrier at the location of the nozzles. This method increases the effective area of the barrier and allows for transparent risk management of that area.
The space required for active barriers is far less than that required for passive barriers. To protect a 7 m by 3 m roadway, an active explosion barrier will require merely 150 kg of suppression material which can easily be located within the suppression canisters on, for example a feeder breaker. The active explosion barriers move with the feeder breaker as the cutting face progresses.
Späth adds that these installations emphasise the dynamic design and placement flexibility. The barriers can be adopted to take account of structural obstacles such as ducting and machinery.
Improvements and Specifications
Späth notes that all Explospot Systems active barrier systems have been enhanced and provide Fourth Industrial Revolution (4IR) interfaces.
"While the active explosion barrier controller has always checked changes in real time, the 4IR interface allows these controllers to not only indicate changes and errors using the onboard human-machine interface (HMI) but also communicate this information to the control room. This allows for transparent status information in the control room and the communication of important service instructions."
These instructions enable the service and maintenance team to receive a pre-alert on the spares that might be required, which is an important factor when considering the potential impact on operations, should a crucial component in a mine's risk management system have to be replaced, explains Späth.
"4IR increases safety, but will at this stage, however, not actively prevent a methane gas ignition or dust explosion. What 4IR will do is increase transparency into an environment that is not easily accessed."
Introducing smart devices that are flameproof or intrinsically safe to an environment that is not accessible by personnel during operations, and integrating those devices with HMIs that report any inconsistency, damage or an error, will enable supervisors, operators and/or technicians to react in an informed manner using better information than if they were to only observe the environment, Späth elaborates.
He adds that 4IR, therefore, is only as good as its integration into a holistic view – if, for example, there is no communication technology available, then the smartest device will not be able to communicate to its receiver.
"This is a problem we currently still encounter in many operational fields in South Africa, as well as in many other countries."
Explospot Systems' flameproof equipment predominately serves underground coal mines. Späth explains that the implementation of the methane gas and coal dust explosion suppression-systems requires a degree of customisation.
Each continuous miner, if not newly procured, undergoes some degree of modification. To accommodate all necessary equipment on the machine, a retrofit Explospot Explosion Suppression System needs to be adapted accordingly.
Späth highlights that this is one of the reasons for the company's having developed the range of flameproof devices that accommodate on-site modification without influencing the safety of equipment and personnel.
"Flameproof equipment needs to be regulated and audited regularly," he adds.
Further, it is very important that people working in hazardous environments, and with electrical equipment in particular, are reminded of the danger involved if basic precaution and prevention are not maintained, he stresses.
"Complacency is, unfortunately, a common cause of accidents and we at Explospot Systems believe in regular training and recertification regarding flameproofing."
All Explospot Systems' technicians and engineers who deal with flameproof equipment regularly undergo training and recertification in terms of SANS 600079-1, SANS 60079-14 and SANS 10086-1.