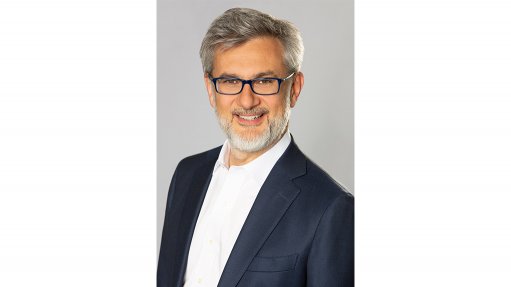 DAVIDE VASSALLO The companies' experience of working in the base metals industry enables DSS to better service this sector
Operations management consulting firm DuPont Sustainable Solutions (DSS) has acquired the assets of global consulting firm Lodestone Partners.
The acquisition, effective as of February 29, reportedly deepens DSS's knowledge and capacity for operational excellence, particularly in the natural resource and mining industry, including base metals.
"The acquisition has specifically assisted with maximising productivity, cost management, supply chain management and sourcing, operational readiness, capital project effectiveness, organisational alignment, and operating system development and implementation," states DSS CEO Davide Vassallo.
Former Lodestone director and now DSS operations excellence director Robin Schleich emphasises Lodestone's significant footprint in Africa and the associated benefit, noting that a third of Lodestone's senior coaches, and 30% to 50% of its revenue, has come from Africa over the past few years.
He states that the company has significant experience working with local companies, and coaching executives in the region.
The acquisition can help DSS to better service companies in the mining and resource sectors.
Vassallo explains that while specific processes used in base metals industries differ from those used in precious metals industries, challenges and opportunities for improvement remain similar in nature.
Schleich echoes this sentiment, adding that as demand for new- and battery-technology minerals increases, companies are looking to exploit older deposits, such as those in the Northern Cape, and/or invest in new greenfield projects in South Africa, Zambia or the Democratic Republic of Congo.
"This is driven by the global demand for raw materials needed by the green technology sector. We believe that we are well placed to support clients across the entire value chain in Africa," he states.
"For these operations to become profitable in the current economic context, companies must leverage the latest technology to ensure that they are cost effective, less resource intensive and as efficient as possible.
"Achieving low-cost and high-profitability, locally and across Africa, will enable companies to weather the many headwinds inherent in these regions as infrastructure, policies and capabilities mature."
Operational Excellence
Vassallo explains that achieving operational excellence would ensure that companies have fit-for-purpose processes and technologies, effective governance and management mechanisms, and adequate capabilities in the organisation, with the right mindset and behaviour among employees.
"Operational excellence is how companies can apply principles to meet customer needs and improve process performance. It also includes the maximisation of operational performance and minimisation of downside risks. This means systematically identifying opportunities to improve efficiency, optimise value and challenge the status quo".
He adds that operational excellence is critical for the mining industry in South Africa.
"Companies must concurrently confront macroeconomic risks, such as the stoppages associated with Covid-19, credit risk and weaker demand from China. This is in addition to South Africa-specific risks, including the cost and instability of supply for energy, and licensing issues."
Vassallo adds that, to mitigate these risks, companies need to focus on what they can control, optimising operations and managing cost to the highest degree possible.
With most, if not all, mining companies locally already implementing operational excellence initiatives, Vassallo highlights three key considerations for companies.
Firstly, Vassallo notes that the most critical part of operational performance is people.
He highlights a recent risk management survey that the company conducted across global organisations. The survey shows that about 83% of senior leaders agreed that it is the "hearts and minds" of their employees they need to influence to achieve and sustain desired business performance.
He says this influence is best achieved by instilling a strong operational culture that cultivates the right mindsets and behaviours across an organisation.
"Further, it's essential to focus on the right value and risk drivers across the value chain to ensure that the effort put in place is maximising the value released to the organisation while reducing its risk profile".
Vassallo also recommends that companies modernise and digitise processes to allow for greater connectivity and enable employees to use new technologies. He emphasises that this can lead to reductions in operational risk, as well as an increase in productivity at a lower cost, without significant capital investment.
"Findings from our Executive Operational Risk Management Survey show that executives are investing in innovative approaches to risk by leveraging technology and data analytics capabilities. A 70% failure rate for digitisation efforts, however, according to a statistic from a recent Harvard Business Review article, is hampering progress."
He adds that it can be difficult for miners to integrate a workforce with such a highly data-driven and automated process.
"While the vast majority of companies - 92% - believe digital tools will add value, only about 52% have a clear digital transformation strategy, and 49% say they believe they spend enough effort on changing mindsets to increase the adoption rate of digital tools."
He also adds that a lack of corresponding skills in the workplace exacerbates this problem.
"Sophisticated plans and investments in technology have the potential to improve productivity and mitigate risk but if deployed without having an overarching strategy, companies will experience little improvement at great cost.
"On a truly global scale, we can now bring a multidisciplinary team of problem solvers, coaches, technical and industry experts, as well as experienced operations leaders. Few, if any, firms can claim to have such capabilities within one company," concludes Schleich.