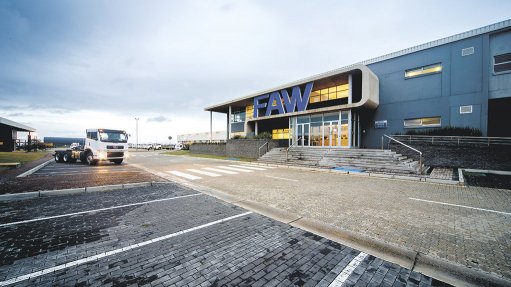 FAW TRUCKS FAW Trucks plans to further expand its product offering in 2022 with the launch of the JK6 15.220FL 8 ton 4 x 2 freight carrier
Truck manufacturer FA Trucks' commitment to the South African market is reflected in the various achievements and accolades it has received this year, with the most recent being a Silver Award in the 2021 National Automobile Dealers' Association (NADA) Dealer Satisfaction Index (DSI) survey.
"The yearly NADA DSI survey, which marks its silver, or twenty-fifth, anniversary this year, monitors the health of the relationship between manufacturer dealers and their respective manufacturers," explains FAW Trucks SA CEO Yongjun Li.
The survey offers a platform to provide manufacturers and importers with feedback and is regarded by dealer councils and manufacturers as an effective management tool to address areas of concern and improve service delivery throughout the value chain.
FAW Trucks occupied the top spot on the sales charts for the heavy commercial vehicle segment of the local market for the first time this year. In addition, the company also manufactured its seven-thousandth locally assembled unit when a JH6 28.500FT – FAW Trucks' flagship model in South Africa – rolled out at the Coega manufacturing plant in Gqeberha.
"This was, understandably, a proud moment for us as a company. It was also just reward for what is one of the largest investments made by a Chinese entity in this country," says Li.
The JH6 28.500FT is the largest of the truck tractors on offer locally from FAW Trucks and has consistently proven that, when it comes to long-hauling, it is virtually unbeatable.
The model is fitted with what is commonly referred to as China's most efficient engine – a 13