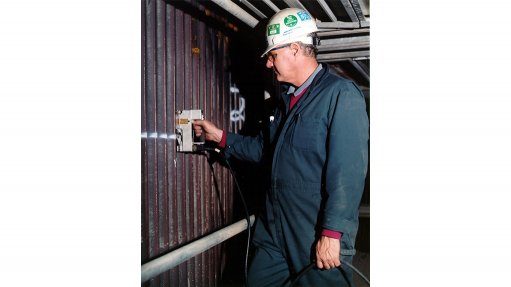 GRUDGE PURCHASE Some of South African metal fabricators only undertaking non-destructive testing to ensure that they are fabrication- and design-code compliant
The Fourth Industrial Revolution (4IR) is an extremely significant focus for material testing and inspection services specialist Dekra Industrial because the collection and interpretation of data plays a vital role in forecasting, strategic growth and decision-making in organisations.
While keeping conventional non-destructive testing (NDT) as a key service, Dekra's future strategy and growth will involve expanding into the advanced NDT service arena.
"Most of the advanced technologies and software development in NDT has roots in the medical field, where the software was adapted and converted to provide meaningful results from an NDT perspective," says Dekra Industrial director Johan Gerber.
Advanced technologies are enhanced by software, while adhering to the original principles of the basic conventional NDT methods such as ultrasonic inspection and industrial radiography, as well as other sub-surface inspection methods.
This offers more accurate, faster and more repeatable information to metal fabricators about structures and components requiring testing and inspection.
This information can also be used in an integrated manner across all platforms, as the world further adopts the Internet of Things as part of 4IR, states Gerber.
"From a strategic perspective, we aim to move from being a service and information provider to a holistic testing and inspection solutions provider using NDT and all the technologies we have at our disposal."
Gerber says advanced technologies can assist in monitoring defects in metal fabrication by establishing a digital fingerprint of the manufactured component, for future reference. This information may then be used in future during scheduled maintenance inspections, to calculate and mitigate the risk of failure of the component by comparing original data with current data, using various impacting mechanisms on the component such as operating temperature, component age, and its exposure to corrosion, pressure and other atmospheric conditions.
"Using a suitable advanced technology technique allows for a digital fingerprint of an indication detected inside a component to be captured and stored for later use. This indication may then be assessed at a later stage to see whether there is any change in growth.
"For instance, if a defect is detected in a weld, and it falls within the acceptable criteria of the design code, it is permissible to continue using the component, which should then be closely monitored for possible growth to mitigate the risk of failure in future," he adds.
"Our Advanced Technologies division offers a vast selection of technologies that are readily available from Dekra Industrial throughout Southern and pan-Africa," declares Gerber.
These include phased array, micro phased array, remote field tube, eddy current and tank wall (crawler) inspections. Internal rotary tube inspection, tank inspection services, infrared thermography, computed radiography, corrosion under pipe support inspection, electromagnetic acoustic testing and replication are also available, as a start. Many other advanced NDT methods are also available on request.
In addition, Dekra Industrial RSA also provides a metallographic failure investigating service in destructive testing and examination, through its South African National Accreditation System-accredited laboratory based in Middelburg, Mpumalanga.
Further, as safety has been a watchword of Dekra globally since its inception 95 years ago, and NDT and inspection is the foundation of safety, Dekra Industrial RSA has extended its services portfolio to offer safety training and certification services to industry, in an online and classroom format, through its Dekra Institute of Learning.
Conventional NDT
"Conventional NDT has been the mainstay of our company, as it provides vital information about the current condition of structures and components used daily in many sectors of industry," states Gerber.
The company has worked in the NDT field since 1983, when Gerber and two friends started a company called Raysonics.
"Raysonics was acquired by Dekra in 2013. So, while we have been operating as Dekra Industrial RSA for the past seven years, we have many more years of NDT experience. "Raysonics mainly applied the four well-known conventional NDT methods, which have been in use since the 1940/50s. These methods are sub-surface inspections, such as industrial radiography and ultrasonics, as well as surface inspection using magnetic particle inspection and dye penetrant inspection. Subsequently, since 2013 and its acquisition by Dekra, the company has embarked on supplying the other basic NDT methods such as eddy current inspection, vacuum boxing, positive material identification and Holiday testing, to name a few.
"However, there is no one solution or inspection technique in NDT. Every technique has its limitations, but luckily, they are all complementary," Gerber states.
For example, while industrial radiography – which includes X-rays and gamma rays – is more suitable to detect volumetric indications – such as inclusions, slag, porosity or metallic inclusions – it is less capable of detecting plainer indications such as cracks and a lack of fusion.
"Industry is, however, moving away from industrial radiography as a testing technique, owing to concerns regarding the risks associated with radiation exposure; as well as the non-productive time during radiation work, which requires that a safe area be maintained for non-radiation workers and members of the public," adds Gerber.
He highlights that ultrasonic-related inspections are preferential for the detection of plainer indications such as cracks and lack of fusion in welding and, while developed for metal inspection, with software advances and developments, these techniques are also being used to test other material such as composites and plastics – provided these tests can be validated.
Meanwhile, NDT is regarded by some as a grudge purchase, with some of the South African metal fabricators only undertaking NDT to ensure that they are fabrication- and design-code compliant.
"The power generation, petrochemicals, mining, construction and manufacturing industries are aware of the value of NDT and are using the service increasingly. Therefore, in these sectors, it is not simply considered a mandatory process – they use the information for the right purpose," explains Gerber.
Comparatively, smaller engineering and fabrication shops are forced by the design code to undertake these inspections as prescribed.
"In addition, if there is no proof that the components or structures are being manufactured to the requirements of the design code and have undergone the required inspections, the risk is that the component's integrity is suspect, and that may have negative insurance implications in the case of failure. Therefore, it is a serious risk if smaller fabrication and engineering companies undertake NDT only when they are required to do so," concludes Gerber.