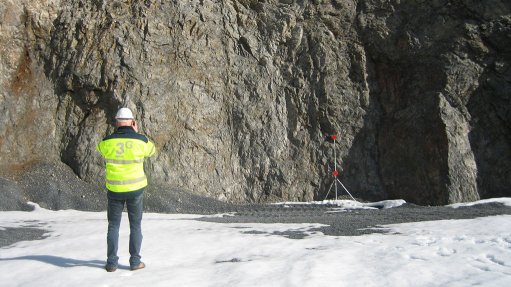 PROFILING ROCK FACES Photogrammetric reconstruction recovers three-dimensional information using at least two photos showing the same part of a scene, such as a rock surface, from different angles
Stereo photogrammetry has proven its value in the mining industry as an easy and cost-effective way to profile rock faces for blast design and characterisation, says blast engineering and consulting firm RA McClure (RAM) president Robert McClure.
He was a speaker at explosives supply chain company BME's twenty-third yearly drilling and blasting conference in November, at the Council for Scientific and Industrial Research, in Pretoria.
Photogrammetric reconstruction recovers three-dimensional (3D) information using at least two photos showing the same part of a scene, such as a rock surface, from different angles.
McClure says photogrammetry dates back to 1850, noting that the technology became more advanced in the 1990s because of the emergence of digital imaging and the availability of computing power, which brought new algorithms and applications to image-based stereoscopic measurement.
This was followed by advancements in terrestrial and aerial photogrammetry applications for mining and rock-mass characterisation.
The technology was further enhanced through the introduction of unmanned aerial vehicles and advanced data processing, says McClure.
He adds that greater flexibility in data processing is now being achieved using a technique called "structure from motion", which enables the automatic computation of 3D images from a set of unorganised photographs.
"Data acquisition can be achieved using terrestrial applications, taking free-hand photos or using aerial applications, which can provide a unique perspective of areas not accessible through terrestrial applications," McClure explains.
RAM's mining clients are using the technology to address fly rock and air overpressure issues in ongoing blasting operations, he adds.
"They also use the technology for complex blast designs. Geotechnicians use the technology to map geological structures for fragmentation and wall stability," McClure explains, adding that there are also downstream benefits through blast optimisation.
This method provides a safe and contact-free way of obtaining higher accuracy, with a low acquisition cost, compared with using laser scanner technology, he states.
Compared with classical photogrammetry, McClure says stereo photogrammetry has several advantages, such as more flexibility in the field procedure of image taking, a higher degree of automatism during processing and more complete results without data gaps.