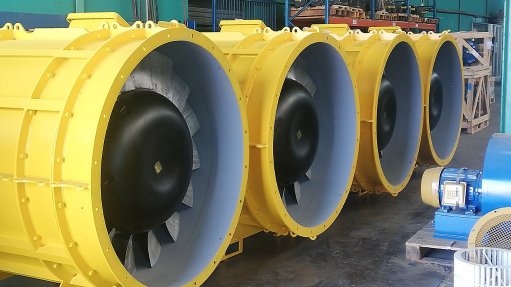 BLOWN AWAY Fans are ready to be shipped to Kamoa Copper
Ventilation firm TLT-Turbo Africa will supply and install a turnkey solution for underground ventilation and fume extraction for Kamoa Copper SA.
Kamoa Copper SA forms part of the Kamoa-Kakula copper project, which is a joint venture between TSX-listed mining company Ivanhoe Mines, Chinese group Zijin Mining and the government of the Democratic Republic of Congo. The Kamoa-Kakula group project has been independently ranked as the world's largest undeveloped high-grade copper discovery.
The project is located within the Central African Copperbelt, about 25 km west of the town of Kolwezi and about 270 km west of the provincial capital of Lubumbashi.
TLT-Turbo Africa is designing, manufacturing and supplying a bifurcated axial flow fan station for the extraction of mine fumes, as well as auxiliary and booster fans for Kamoa Copper's underground operation.
TLT-Turbo will also oversee the installation of the fans and will provide assistance with commissioning. The Kamoa Copper ventilation project is the first of many projects of strategic importance within the sub-Saharan Africa region that the company is involved in.
The contract was secured in October 2018, with commissioning due to begin in July this year. TLT-Turbo Africa was, in turn, appointed by mining engineering firm DRA Projects, which is handling engineering, procurement and construction management (EPCM) for the project. DRA managed the tender process and is currently overseeing the execution phase.
According to TLT-Turbo auxiliary fans sales manager Madeleine Pretorius, the project presents unique challenges from a logistical point of view. The site is remote, and it involves multiple border crossings and often poor road conditions. "This means complicated logistic solutions. TLT-Turbo has the benefit of a broad suite of options to minimise the need for abnormal or complex loads," Pretorius states.
She adds that the TLT-Turbo Africa offering and approach positions the company as a preferred supplier for ventilation solutions in challenging locations.
"We provide an energy efficient solution where power costs are high, and availability can be erratic. "Our product is designed for long-term reliability and durability with minimal downtime, which is critical for our remote clients."
TLT-Turbo Africa sales manager Mike van Oerle says that TLT-Turbo's approach will provide several benefits to Kamoa's operations. This includes standardised equipment that is designed for simple installation and maintenance, which means that TLT-Turbo's fans can be maintained by the client on site, without the need for costly expert inspections.
"TLT-Turbo is providing highly efficient products to meet Kamoa's interim ventilation and power requirements, with flexibility for future redeployment at an alternative ventilation position."