Emerging mining machinery solutions provider Tata Voltas continues to add value to the global mining industry by maintaining earthmoving equipment for a lower cost than other agents in the market.
The focus of this approach, the company explains, is to provide project owners and managers the opportunity to "solely concentrate on their operations and leave the headache of complete maintenance of these big machines to us".
Value-added Services
In the global opencast mining sector, heavy mining equipment is the backbone of the production process. As such, the uptime of equipment is the primary focus of any mine operator.
Tata Voltas says its service "assures high availability and reliability of the equipment", leading to a "considerable difference in overall performance", allowing it to "reduce the cost per ton of product" and comprises:
A service agreement, to ensure that equipment is being serviced according to standard procedures set by the manufacturer, so that the lifespan and reliability of the is ensured.
The attention of factory-trained experienced engineers and technicians that apply specialised skills to troubleshoot and maintain heavy machinery equipment comprising state of the art engineering products.
Mining and Construction Equipment Division
The Mining and Construction Equipment (M&CE) division is an ideal product support partner specialising in:
Turnkey erection and commissioning of ultra-large class mining machines.
Operations and maintenance contracts.
Rental contracts.
Annual service contracts and rehabilitation programmes.
Voltas' six-decade-old M&CE equipment division has been a major player in the heavy and earthmoving machinery industry in India and has been credited with the launching in the Indian mining industry of many global brands of heavy and earthmoving machinery equipment.
Africa Focus
The company's plans to "vigorously expand across Africa" follow on Voltas' M&CE division having entered a strategic partnership with Tata Africa in 2010, through which it offers service solutions for mining machines operating in Mozambique at the Moatize coal mine of Vale Mozambique, now known as Vulcan International. Tata was among the few initial companies that signed contracts with Vale for providing maintenance support for its mining equipment fleet. Current contracts have been entered into with Vulcan International, Jindal Mines and Komatsu.
Tata Voltas' agile and proactive approach are based on the following values:
Service being the backbone for the sustenance of future growth in Africa.
Service support for the machinery and equipment's life cycle being of utmost significance.
Services offered delivering considerable cost savings to large mining companies which seek to optimise production by rationalising cost.
With its solid experience in heavy machine maintenance, safety and quality policies, as well as familiarity with multicultural and multidisciplinary environments, the company is providing solutions globally to the equipment repair and maintenance needs of heavy industrial applications.
Services are provided on a 24/7 basis, and see Tata leverage its global presence and marketing capabilities to deliver value to its customers in the following five key business lines:
Metals
Distribution
Leather and leather products
Minerals, and
Agri-trading.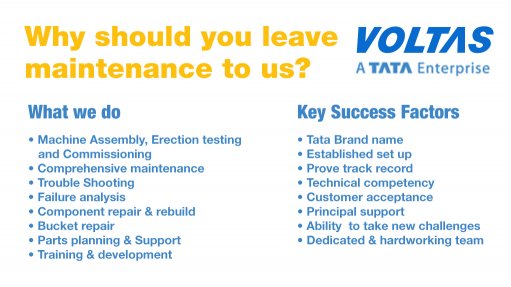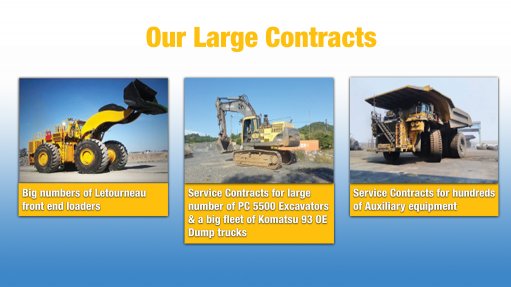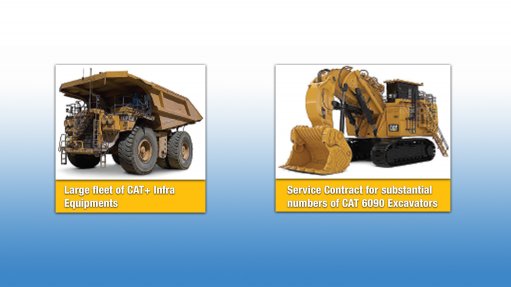 CONTACT TATA AFRICA HOLDINGS:
Email: pvajit@voltas.com
Email: Shantanu.nagar@tatainternational.com
Tel: +27 11 459 1700
Tel: +258 84 618 3734
Edited by: Creamer Media Reporter

EMAIL THIS ARTICLE SAVE THIS ARTICLE ARTICLE ENQUIRY
To subscribe email subscriptions@creamermedia.co.za or click here
To advertise email advertising@creamermedia.co.za or click here
Comment Guidelines