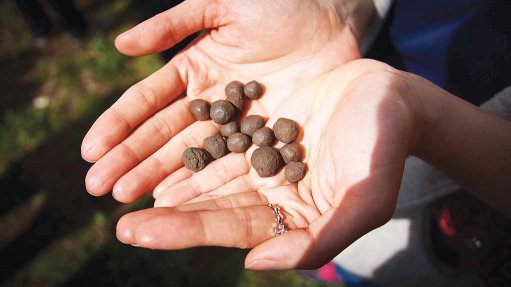 Name: Samarco mine.
Location: The mine is located in the state of Minas Gerais, in south-east Brazil.

Controlling Company: Samarco Mineração, a joint venture (JV) between BHP Billiton (50%) and Vale (50%).
Brief History: Founded in 1977, Samarco Mineração is a privately owned Brazilian mining company. It is essentially an exporting company, which has been one of the largest companies in the country for years. The company's operations are located in the Brazilian states of Minas Gerais, where iron-ore is extracted and beneficiated at the Germano unit, and Espírito Santo, where pelletising and shiploading operations are undertaken at the Samarco-owned Ubu port terminal.
Brief Description: Samarco currently comprises a mine and three concentrators, in Minas Gerais, and four pellet plants and a port, in Anchieta, in Espirito Santo. Three 400 km pipelines connect the mine site to the pelletising facilities.
Geology/Mineralisation: Samarco's reserves are located in the municipalities of Mariana and Ouro Preto, and comprise low-grade itabiritic ore.
Reserves: Proven reserves as at June 30, 2015, were estimated at 1.4-billion tonnes, grading 40.4% iron and 0.05% phosphorous compounds. Probable reserves as at June 30, 2015, were estimated at 1.5-million tonnes, grading 38.8% iron and 0.05% phosphorous.
Resources: Measured resources as at June 30, 2015, were estimated at 2.9-billion tonnes, grading 39.2% iron and 0.05% phosphorous compounds. Indicated resources were estimated at 2.8-billion tonnes, grading 37.1% iron and 0.05% phosphorous compounds

Products: Iron-ore pellets.

Mining Method: Openpit.

Major Infrastructure and Equipment: The extraction and beneficiation of iron-ore are conducted at the Germano facilities in the municipalities of Mariana and Ouro Preto. Conveyor systems are used to extract the ore and convey it from the mines. Beneficiation takes place in concentrators, where crushing, milling, desliming and flotation processes produce iron concentrate. The concentrate leaves the concentrators as slurry and is pumped through slurry pipelines from the Germano facilities to the pellet plants in Ubu, Anchieta, where the slurry is processed into pellets. The iron pellets are then heat treated and stored in a stockpile yard before being shipped to the Samarco-owned Port of Ubu, in Anchieta.

Prospects: One of the three tailings dams at the Samarco mine burst on November 5, 2015, causing a significant amount of tailings to flood the community of Bento Rodrigues and impact on other communities downstream.

The cause of the disaster remains unknown. An investigation is not expected to publish findings until midyear, but Samarco says it can restart reduced production without building a new tailings dam and do so without risking another disaster.
Samarco CEO Roberto Carvalho expects the mine to restart by October this year at a rate of 19-million tonnes of iron-ore pellets a year, a significant decrease from the 30-million tonnes it produced before the spill. Tailings will be stored in old pits without the need to build a new dam.
The company can run at this reduced rate for about two years before a longer-term solution for the tailings is needed.

Samarco has taken the first steps towards reopening the mine, applying for permission to use old mining pits to store tailings. A permit, however, will only be issued once the tailings leak is stopped. The company is expected to find a solution to the leak in the six months that it will take to issue a permit.
Meanwhile, BHP Billiton and Vale have reached an agreement with Brazilian authorities on funding to compensate those for the Samarco incident, which left 19 people dead.
Under the terms of the agreement, Samarco, Vale and BHP will establish a foundation that will develop and execute environmental and socioeconomic programmes to remediate and provide compensation for damages caused by the Samarco dam failure.
During 2016, Samarco will contribute $500-million to the foundation, less the amount of funds already spent, with 2017 and 2018 funding set at $300-million a year.
The amount of yearly contributions from 2019 to 2021 will vary from a minimum of $200-million to a maximum of $400-million, depending on the remediation and compensation projects to be undertaken in each particular year.
If funding obligations are not met the JV partners will be held liable for the funds in proportion to their JV shareholding in Samarco.
The agreement will run for 15 years and will be renewable for periods of one year successively, until all obligations under the agreement have been performed.
Contact: Media relations.

Contact Details:
Samarco Mineração,
tel +55 31 3269 8787,
email relacionamento@samarco.com, and
website http://www.samarco.com.